In India, the milk business is one of the crucial businesses. Starting a milk business is surely a big deal as the product is always in huge demand. These women of Gujarat have proved just that. Several women have become Millionaire by selling milk.
Amul Dairy chairman RS Sodhi on Wednesday released a list of 10 Millionaire rural women entrepreneurs who have earned lakhs of rupees by selling milk to Amul in the financial year 2019-20. All these women are engaged in dairy and animal husbandry business. RS Sodhi tweeted that these women entrepreneurs have sold milk worth millions of rupees during 2019-20.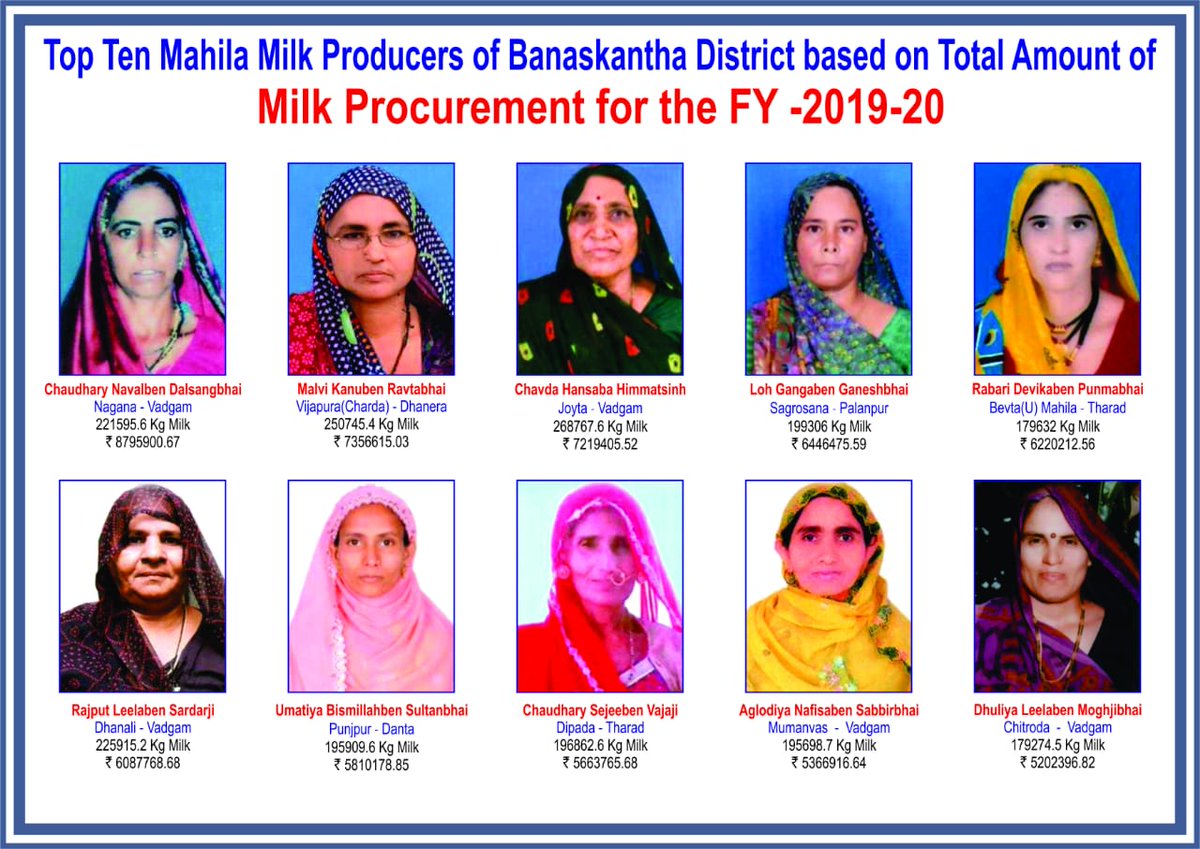 1. In the first position is Chaudhary Navalben has earned Rs 87,95,900.67 by selling 221595.6 kg milk in 2019-20.
2. At the second position is Malvi Kanuben Rawatbhai, who earned Rs 73,56,615.03 through 250745.4 kg milk.
3. At number three is Chavda Hansaba Himmat Singh, who collected 268767 kg milk and earned an income of Rs 72,19,405.52.
4. At number four is Loh Gangaben Ganeshbhai, who has acquired Rs 64,46,475.59 from 199306 kg of milk.
5. At number five is Rawabdi Devikaben, who has earned Rs 62,20,212.56 from 179632 kg milk.
Meet our 10 millionaire rural women entrepreneurs of @banasdairy1969 ofGujarat who involved in business of dairy & AH .They poured milk worth lacs of rs during fin yr 19-20. There are lacs of such empowered women in gujarat @Amul_Coop @girirajsinghbjp @ChaudhryShankar pic.twitter.com/WY2Ng4rGcB

— R S Sodhi (@Rssamul) August 19, 2020
6. At the sixth place is Lilaben Rajput, who earned Rs 60,87,768.68 by selling 225915.2 kg milk.
7. At number seven is Bismillaben Umatia, who gained Rs 58,10,178.85 from 195909.6 kg milk.
8.  At number eight is Sajiben Chaudhary, who sold 196862.6 kg milk to Amul and earned Rs 56,63,765.68.
9.  At number nine is Nafisaben Aglodia, who earned an income of Rs 53,66,916.64 from 195698.7 kg milk.
10. Lastly, at number 10 was Lilaben Dhulia, who collected 179274.5 kg of milk and earned Rs 52,02,396.82.