April Fool's Day is here and better than making a fool of your friends or families this year, let's take a look at some of the biggest pranks played by some world-renowned brands on their consumers. Not trying to throw them off the wagon, these brands have actually tickled a funny bone that has, in fact, boosted their PR.
Which of these brands have successfully carried these out so far? Let's find out.
Burger Kings' Chocolate Whopper
Remember back in 2018 when Burger King took to their social media handles to introduce the 'Chocolate Whopper'? Featuring syrup replacing the ketchup and white chocolate served instead of onion rings, topped off with blood orange candy to build the perfect sweet tooth craving? It was really heartbreaking find out that it was not 'actually' part of their menu.
eHarmony's Love for Dogs
Don't you all love how Harmony acts as the perfect matchmaking application? In 2018, they also launched their 'Furever Love' feature that promoted matchmaking for dogs as well. Shouldn't your beloved pets find love? The idea was featured in relation to a scientific study called  "Love and Canine Relationships in America," and data from a proprietary bark and tail wag measurement scale. Don't you think this was too calculated even for a prank? Kudos to them!
BBC's 'Spaghetti Tree' Report
This was considered to be the greatest news media hoax of all times. In 1957, they used to have this series called Panorama that shot some news from New Zealand. The footage broadcasted on live TV displayed how a family was harvesting pasta from their so-called 'Spaghetti Tree' in the backyard. At that time, people in the UK were not familiar with the term to recognize the prank at one glance. But it definitely accounts for an all-time classic in our opinion.
Elon Musk's Bankruptcy
Tesla's Founder and CEO 'Elon Musk' issued an April Fool's prank back in the day by sharing important news and a passed out picture of him indicating the company had couple of debts. A lot of their fans understood the prank, more importantly since it was a Sunday that year. However, the next morning on Monday, Tesla happened to actually see a drop in its market shares by 5%.
Taco Bell's Purchase of the Liberty Bell
Back in 1996, Taco Bell made the revelation of purchasing the Liberty Bell by publishing the news as a 6 ad feature in major newspapers. This was done to reduce the national debt. While you might consider this to be an expensive prank, it was worth it as the public response was 10 times more overwhelming. But not for long.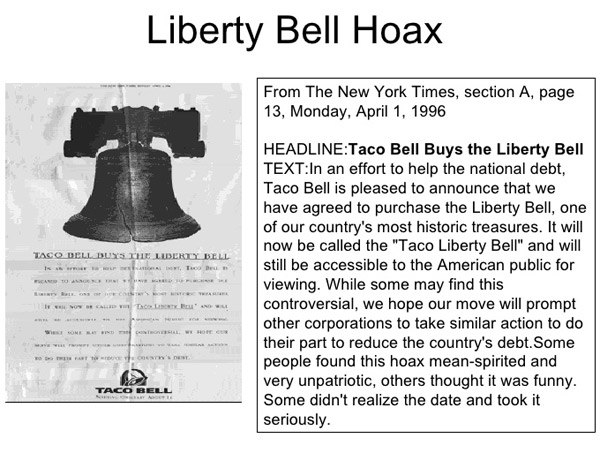 Source: Business News Daily