How These Mushroom Farmers From Nagaland Are Earning Good
The lockdown of 2020 has given a lot of meaning to a lot of people. For some it was difficult, and for some it might have been a blessing. Something similatr happened to the people of Nagaland.
Temjen Wati worked as a mess manager of a private college in Nagaland's Mokokchung district. Things took a turn when the lockdown was imposed and he was confined to his residence. That is when Temjem decided to work on a special kind of  Shiitake mushroom farming in his garden on a few lump of wood.
It was in August that the sprouting season began and Temjem was delighted to cut his hard worked harvest. Wati was able to harvest nearly 15 Kgs of Shiitake Mushrooms which was more than enough for him to use for his personal use and to sell as well.
Shitaake Mushroom is considered as a highly nutritious edible mushroom which is mainly found in East Asian countries like China & Japan. However, they are spreading widely in Nagaland as well.
Dr Sosang Longkumer's Contribution
The mushroom is quite expensive and scarcely available in India. The consumers there have to import it from other Asian countries like Korea, Thailand, Japan & China.
Dr Sosang Longkumer, Naga Scientist, can be credited for this wide spread of Shiitake farming in the state. He belived that like other Southeast Asian countries, Nagaland can become a hotspot for Shiitake farming.
Longkumer established his small mushroom spawn production laboratory in Dimapur where he would research on Shiitake farming. After extensive research and experiments, the first Shiitake fruit was spawned in October 2019.
One year down the line, Longkumer has trained approximately 500 farmers in Shiitake and Oyster mushroom cultivation, and his team at his start-up, Konger Agritech, has made about 15,00,000 Shiitake dowel spawns and 10,000 kg of Oyster mushroom spawns.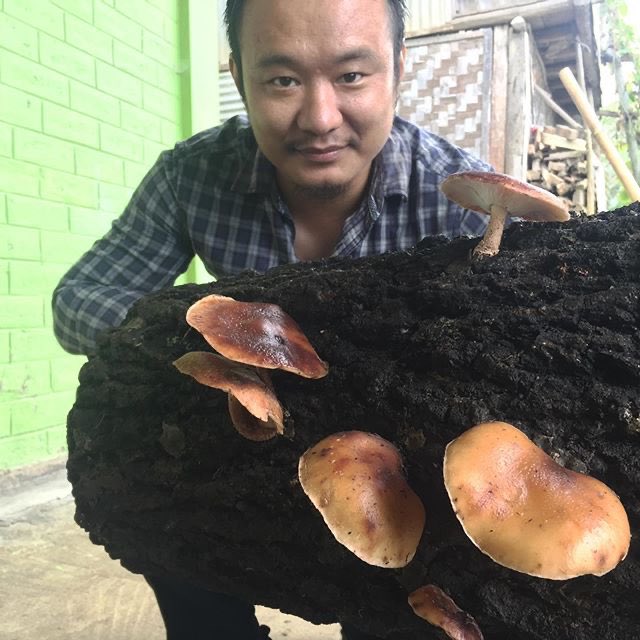 Longkumer's Mushroom-preneurs
Shiitake even came to the rescue of 8 women in the Aliba Village. During the lockdown, these women were able to cultivate the mushroom and have doubled the income from what they got while working on tomatoes and potatos cultivation. They all have been trained by Dr Sosang Longkumer. As per their statments, since August, they have harvested 38.5 kg, sold it at Rs 600 per kg, and earned nearly Rs 23,000.
Temjen Wati and the Aliba village women are a few examples of how the Shiitake farming has been beneficial in the ruaral areas of Nagaland.
Since Shiitake has great medicianal properties like useful in fighting cancer, the production should be higher in India according to Dr Longkumer. On top of that, Nagaland serves as the best location with its hill and climatic conditions to support the cultivation of Shiitake.
Challenges Faced
Dr Longkumer has given a lot of time and energy in enabling the farming of the Shiitake mushroom in Nagaland. However, since the farmers are not much aware of the demand of the mushroom they have not been very keen to switch to it.
In order to encourage the farmers, Longkumer has even offered a buy-back policy at Rs 500 per kg of produce.
The state governement has also taken notice of Longkumer's efforts and during the announcement of its 'Roadmap for Economic Development- Post COVID-19 Pandemic', the Nagaland State Rural Livelihood Mission (NSRLM) has included mushroom cultivation as a part of it.