Rhea Chakraborty's 'Roses Are Red' T-Shirt Is A Part Of Campaign That Promotes Campaign On Sanitary Napkins
The Sushant Singh Rajput's case has received a lot of attention from the Indian media. Viewers, fans & family of SSR have been able to stay updated with every little development that is taking place. Rhea Chakraborty has been the center of the media trial ever since the actor's demise. We are all aware of the images where Rhea was seen surrounded by a sea of journalists when she first arrived for the NCB hearing.
On Tuesday, she was seen arriving for the NCB hearing and something else grabbed more attention than the mere list of allegations on her. Rhea chose to wear a very interesting T-shirt for the hearing that day. Her T-shirt read "Roses are red, violets are blue, Let's smash Patriarchy, Me and you".
For all those who have been following the case closely must be aware of the hype that this T-shirt caused with the online media. People were talking about the T-shirt more than the actual case. This can be proven as Google reported a spike in the search of the word 'Patriarchy' along with Rhea Chakraborty's name.
The T-shirt she wore has an origin story of its own. It is a part of a campaign run by popular online clothing and accessories company, The Souled Store, which works to help women in the rural areas to avail of the facility of Sanitary Napkins.
The campaign featured actors like Rahul Bose, Dia Mirza, and, many prominent social media influencers like Miss Malini, Tanmay Bhat, and Ananya Johar.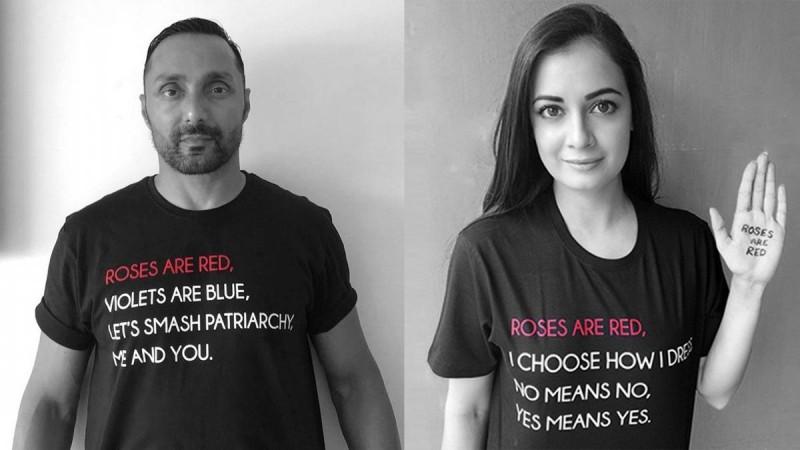 The Souled Store, in collaboration with an NGO, GiveHer5, decided to launch a limited edition range of merchandise in order to increase awareness about the problem and raise funds in an innovative and engaging manner. As per the brand, 1 t-shirt sold = 1 girl's yearly requirement of sanitary napkins.
Nevertheless, when Rhea Chakraborty was seen wearing the T-shirt, it gave the slogan a whole new meaning.