10 Cheetos Facts That Will Amaze You
Who doesn't love Cheetos and its crunchy, mouth-watering snacks? Known as America's yummiest snacks, you might not know about these 10 facts about the company that makes it so impressive since its inception.
The brand was invented under the label of Fritos
Fritos founder Charles Elmer Doolin created Cheetos in Dallas, Texas. When it was just started, they didn't have the resources to take it all through the nation. It was only in 1961 when the company became successful. Even Doolin and Lays merged their companies under Fritoy-Lay.
They were originally known as Chee-tos. Crazy right?
A number of people believe Cheetos has been kept in resonance with Fritos. It originally started as 'Chee-tos', owing to the fact that they are cheesy in taste.
That cheesy dust that gets all over your hand? We have a name for it!
The brand claims that the orange or red cheese dust you get all over your fingers is called 'Cheetle', and it's so yummy you definitely have to lick it good!
Once they had a gorilla shaped chip. Guess how much it was sold for?
There was a time when a gorilla shaped Cheetos was found in one of the packets. It was sold on eBay for $99,00 and resembled Harambe, a popular gorilla who was shot to death in the Cincinnati Zoo and thus gained popularity in 2017.
A Janitor created the Flamin' Hot Cheetos!
A 12-year-old plant worker, Richard Montanez, visioned the Flamin' Hot Cheetos. This was in 1976 when Montanez pitches the idea to CEO Roger Enrico who instantly loved the flavours, and today we have one of the popular flavours available for Cheetos.
The Flamin' Hot Cheetos was once addictive, but the research shows different results
Researchers believe that the Flamin' Hot Cheetos contains the chemical capsaicin, that triggers the body to release and endorphins which probably attracts customers to have the entire packet in one go! However, it hasn't been proven whether this chemical works in the same way as caffeine or nicotine, so much so that the body will have to depend on it.
The Chester Cheetah wasn't always the brand mascot!
Before the Chester Cheetah became the official mascot of the brand, there was a Cheetos Mousse who said, 'Chee-tos! Cheese that go crunch!'. Once the Chester Cheetah came into existence, the brand slogan went from 'It ain't easy being cheesy' to 'Dangerously cheesy'!
Cheetos opened its own restaurant in New York in 2017!
Did you know that Cheetos has its own popup restaurant in New York? It is known as the 'Spotted Cheetah' and is the company's very own snack shop that opened in 2017 and has everything Cheetos inspired, right from the theme to the menu.
Cheetos has collaborated with some of your favorite restaurant brands
You would be delighted to know that Cheetos has collaborated with some of your favourite brands over the years. The most exciting collaboration was the one with Taco Bell, which was flavored with seasoned beef, nachos and shredded cheddar cheese. Another brand collaboration was with Burger King to create the popular 'Mac n Cheetos' and with KFC to create Cheetos fried chicken sandwich!
The first-ever cheetos was called Crunchy Cheetos!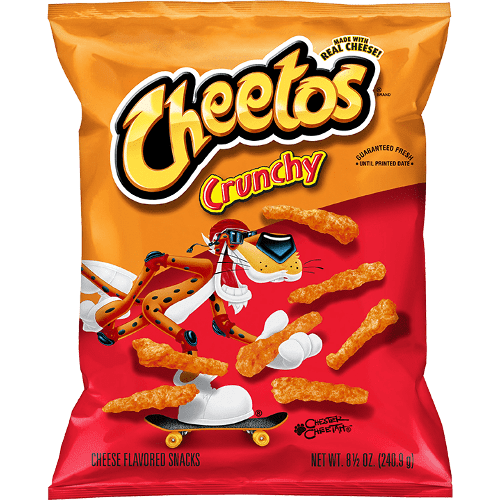 The first-ever flavour launched by Cheetos was Crunchy Cheetos, created in 1948 in Texas! This was the most favored product by the brand until Cheetos Puffs were introduced in 1971.
Source: Business Insider
Also Read: We Bet You Didn't Know About These 10 Things About Lay's Chips!